PAIR VINTAGE PERKINS PERKO MARINE LAMPS SHIP BOAT NAUTICAL LANTERNS ELECTRIFIED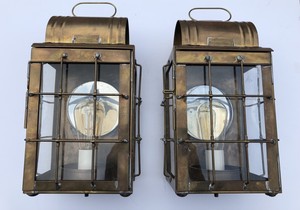 ---
Estate find
Was carefully removed from the walls where they hung in an estate.
You can see the hardware to attach it to the wall. Can be wired to plug into a wall socket, or hard wired as it was.
Brass construction with glass panels.
Made by Perko
Shipping weight for the lanterns is 10 lbs
It has not been cleaned or polished
As pictured
Thanks Carmine!