2 pcs - TYCO Amp 30 pin Single Row PCI Card Edge to Board Connector US SELLER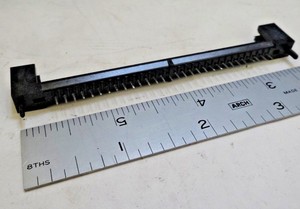 ---
Please refer to the photos for a clearer description of the item. We are unable to fully evaluate this item, and hence are offering it on an 'AS-IS' basis. 
You may request us to power up the equipment and we can tell you the result BUT we are in no position to guarantee or provide warranty the products in any way. As some of the items being offered on sale has multiple stocks in inventory, thus the stated serial number in the picture description may vary. In the case where an item is stated to be in good condition, we refer to it as being in good condition in relation to its age, and we would like to emphasize that in no way do we claim that it is a new item. If the item is brand new, it would be clearly indicated by the keyword "NEW" in the item description. The detailed photos as provided serves as a good guide for one to evaluate the condition of the actual item.We guarantee that absolutely no re-touching of the images has been done. We will readily answer any questions/queries with regards to any item on offer, and will provide additional information/photos at your request.
LOCAL PICKUP
Local pickup in Irvine, CA USA can be arranged for FREE, Monday-Friday, 12PM - 5PM
WARRANTY
None. 
QUESTIONS & FEEDBACK
Please do not leave any negative feedback without first contacting us. Please ask any questions before purchase.
DELIVERY TIME
Order will be packed and will be ready for shipment 1 - 3 days after receipt of payment.
COMBINED SHIPPING
Combined shipping is welcomed to reduce the total shipping cost. All tracking information will be updated on buyers' accounts.
For other technical questions, please contact us via messaging. 
___________________________________________
SOLD AS IS - ALL SALES FINAL - NO RETURNS